Here's what's new on Video on Demand, Netflix, Amazon Prime, Hulu and other services.
Top streams of the week
Denis Villeneuve directs "Dune" (2021, PG-13), an epic science-fiction story of royal intrigue, betrayal, rebellion and giant sandworms on a desert planet. Timothée Chalamet stars with Rebecca Ferguson, Oscar Isaac, Josh Brolin, Jason Momoa, Javier Bardem and Zendaya in this latest adaptation of the landmark novel by Frank Herbert. It's available to stream on HBO Max for 31 days only starting Thursday, Oct. 21, the same day it opens in theaters.
"Found" (2021, PG) follows three girls, adopted by different American families, who discover they are cousins thanks to DNA tests and travel to China to connect with their ancestry. The documentary explores issues of identity, family and the long-term effects of China's one-child policy. (Netflix)
In science-fiction thriller "Invasion: Season 1" (TV-MA), an alien invasion of Earth is experienced from different perspectives around the world. Shamier Anderson, Golshifteh Farahani, Sam Neill and Firas Nassar star. Three episodes are available; new episodes arrive every Friday. (Apple TV+)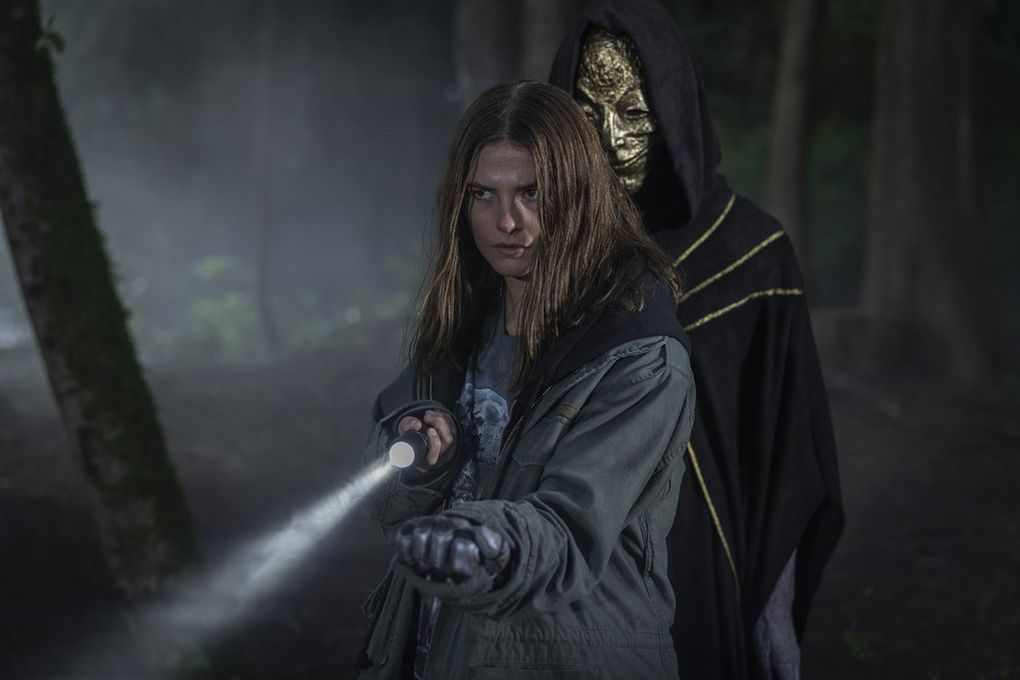 A teen runaway (Stefanie Scott) finds a mysterious door in the woods that leads to an alternate dimension filled with monsters in "The Girl in the Woods: Season 1" (TV-MA), a supernatural young-adult drama set in the Pacific Northwest. All eight episodes available. (Peacock)
The savagely satirical, Emmy-winning series "Succession" (TV-MA) returns with new episodes of corporate warfare and family dysfunction on Sundays. (HBO Max)
Halloween highlights
A wounded park ranger (Monique Rockman) is taken in by a mysterious father and son living off the grid in "Gaia" (2021, R), an eco-horror thriller set in the dense Tsitsikamma Forest of South Africa. (Hulu)
In the teen vampire thriller "Night Teeth" (2021, TV-14), a college student and part-time chauffeur (Jorge Lendeborg Jr.) is hired by a pair of seductive but hungry vampires. (Netflix)
Patrick Wilson and Vera Farmiga return in "The Conjuring: The Devil Made Me Do It" (2021, R), the third film in the hit horror-movie franchise. (HBO Max)
"Snoop and Martha's Very Tasty Halloween" (not rated) is a baking competition special with seasonal treat challenges hosted by Snoop Dogg and Martha Stewart. (Peacock)
Pay-Per-View / Video on Demand
M. Night Shyamalan's "Old" (2021, PG-13) is a thriller about people trapped on a remote beach where they age at an alarming rate. Plus: "The Protégé" (2021, R), an action thriller with Maggie Q as an assassin; "Joe Bell" (2021, R), a drama with Mark Wahlberg as a father raising awareness about high school bullying; and "Snake Eyes: G.I. Joe Origins" (2021, PG-13), a prequel with Henry Golding. They are also on DVD and at Redbox.
Netflix
"Inside Job: Season 1" (TV-MA), an animated comedy for adults, features the voices of Lizzy Caplan and Christian Slater as members of a team keeping conspiracies a secret.
Kid stuff: The animated adventure fantasy "Maya and the Three" (TV-Y7) follows a Mayan warrior princess (Zoe Saldana) on an odyssey to save humanity from vengeful underworld gods.
Hulu
Toni Collette plays a pub owner who rallies her small Welsh community to raise a thoroughbred to race in "Dream Horse" (2020, PG), a low-key drama based on a true story.
Chef David Chang hosts the docuseries "The Next Thing You Eat: Season 1" (TV-PG), about the future of food production.