Seattle Rep has torn up half its mainstage floor to build an immersive set for "Here Lies Love," an ambitious new production of a musical about Imelda Marcos, the former first lady of the Philippines. The risks are high, but so are the hopes for a show about a complex character.
With "Here Lies Love" — its most expensive show ever — Seattle Repertory Theatre has walked out on an artistic and financial tightrope and is doing pirouettes with David Byrne and Fatboy Slim.
Byrne and Slim co-wrote the production, an immersive musical about the complicated rise of former first lady of the Philippines Imelda Marcos — she of the 2,700 pairs of shoes, 1,000 handbags, and a contradictory legacy of populism crashing against personal extravagance.
And it's an enormous risk.
The theater has ripped out many seats in its biggest room (the 850-capacity Bagley Wright Theatre) to build a '70s-style disco where 250 audience members can party with Imelda and the characters who swirled around her roller-coaster life.
David Byrne and Fatboy Slim: 'Here Lies Love'
April 7-June 18
Seattle Repertory Theatre
155 Mercer St., Seattle
$20 lottery – $130
206-443-2222 or seattlerep.org
---
Theater review
For the Rep, that means "Love" is a hugely expensive production with far fewer tickets to sell.
Just telling Imelda's story alone is a delicate dance. A "Love" audience, Byrne said, "comes in thinking it's all about her shoes and indulgence, then you win them over, then you betray them … It's a tricky balancing act."
As the production costs add up and the artistic stakes get higher, nerves are understandably strained — but now that previews have begun, everybody is waiting for the ticket-sales parachute to open.
One recent afternoon before a rehearsal, two young theater workers huddled by the Rep's stage door, talking in hushed and feverish tones about whether "Love" would save the theater or drive it into the ground.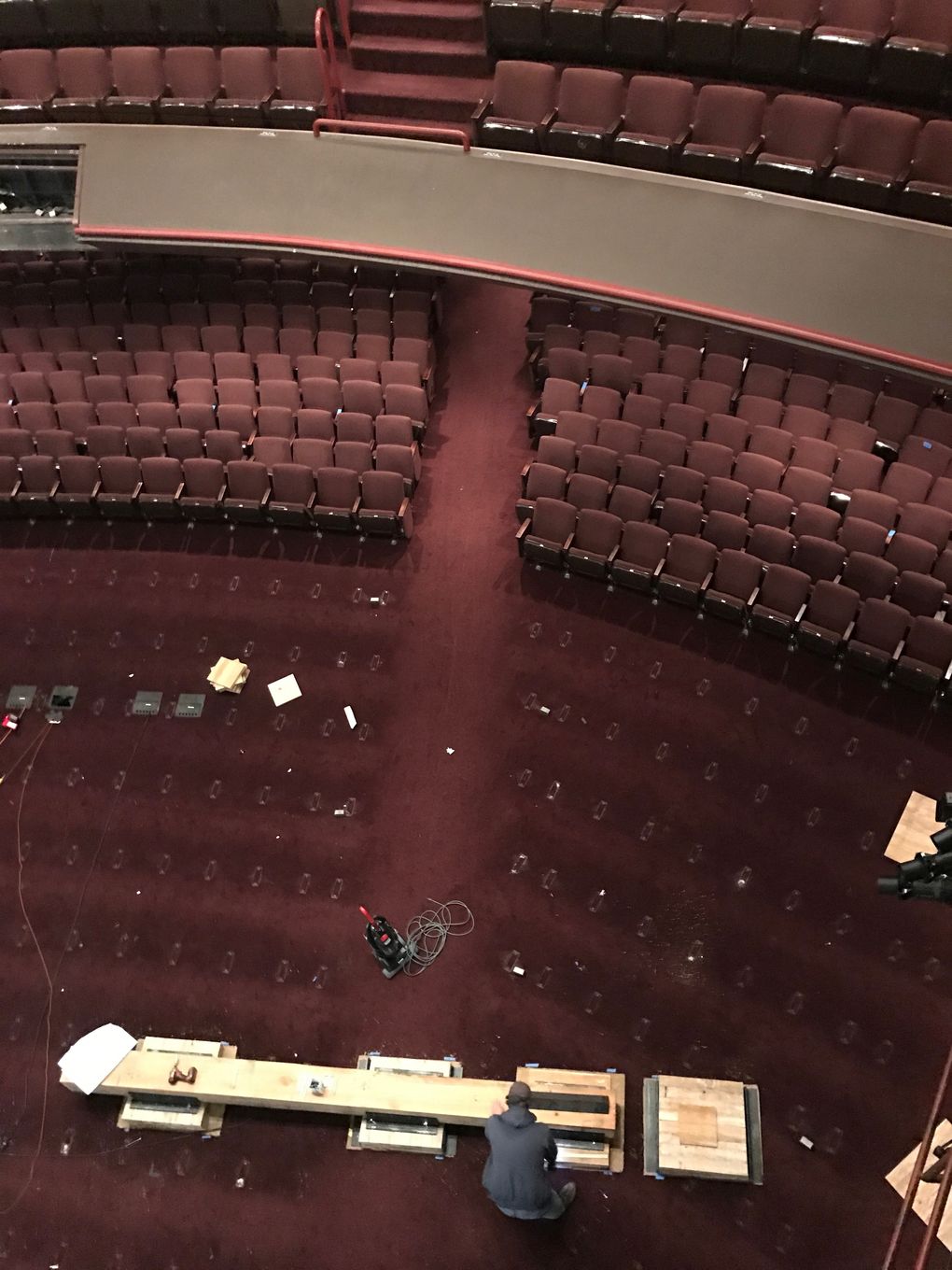 "We just don't know what will happen," Rep producing director Elisabeth Farwell-Moreland said a few minutes later as we sat in the theater before the rehearsal, while theater technicians scurried across the floor below. "This has been my dream and my nightmare for the past 15 months."
Farwell-Moreland and I were sitting in the balcony, where you can perch if you like, but everyone associated with the show insists the only place to feel its full impact is on the new dance floor.
Farwell-Moreland and artistic director Braden Abraham repeatedly demurred when asked about the price tag on "Love" — but both confirmed it was over four times more expensive than any other production in the Rep's history. They also acknowledged that brows are tightly furrowed throughout the organization about how to make the show financially viable without setting prices so high that people who aren't Marcos-rich can still afford to see it.
(Tickets for the dance floor on weekend nights currently cost around $130, but prices may change as the run continues. The Rep is also working with the TodayTix app to sell day-of lottery tickets for $20.)
Then there's the question of whether the immersive musical will attract new patrons or repel old ones.
"We don't want to lose our regular subscribers," Farwell-Moreland said. "But we really want to change the way people see the work we do — that this isn't the Rep you expected."
On the other hand, Farwell-Moreland added: "We're asking the question of whether we can reconfigure the theater and afford to lose inventory on a show that's more expensive than anything we've ever done."
That question isn't a hypothetical any more.
The beams, the struts, the DJ booth, the negotiations with the city about seismic safety issues, the architects from the East and West coasts who've been brought in, the large disco ball that drops and lifts from the ceiling, the video cameras that project onto every surface in the room, the technicians — for better or for worse, this larger-than-ever production of "Here Lies Love" is popping into the world.
"This set," Farwell-Moreland said, gesturing around the room, "was built to last for 250 years."
A smaller version of "Love" premiered at New York's Public Theater to glowing reviews in 2013. But for the Rep, this production remains a high-stakes roll of the dice.
Before the rehearsal, Abraham seemed both jittery and enthusiastic. "Any great project comes with risk," he said, and reiterated that "Here Lies Love" was an "investment" — maybe it'll bring in new people who think of the Rep as a drawer full of stale mothballs, maybe it'll have an extended run, maybe it'll be a national sensation like "Hamilton."
And, of course, they're obsessing about the artistic value of the production.
"There are dividends that are harder to measure both on the balance sheet and off," Abraham said. "This is just part of a bigger strategy and vision for the theater … but I've never done anything like this before. We want to do something completely different."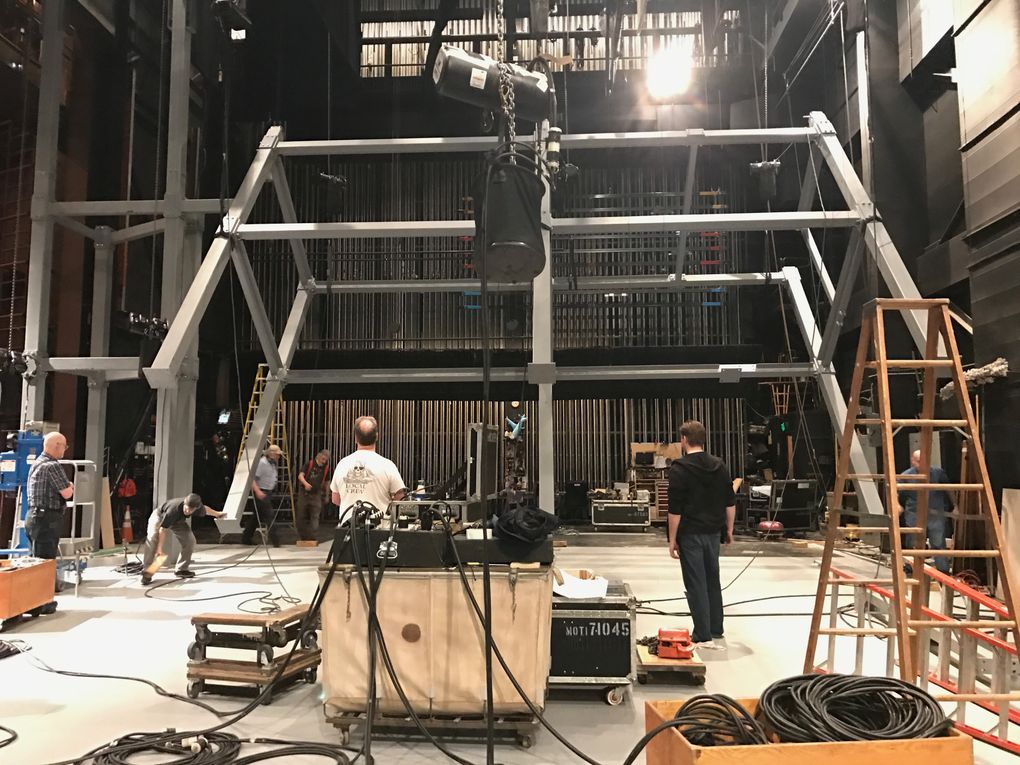 A legacy based on risk
The Rep's gamble is fitting for a musical about a woman whose legacy is based on risk. Marcos was from a strict Catholic family, got romantically involved with high-powered men (some of whom eventually became political enemies — a prominent dissident, and one of her alleged ex-boyfriends, was immediately shot in the head when he arrived at a Manila airport in 1983) and became a self-styled woman-of-the-people who showered herself in expensive baubles.
During her husband Ferdinand's regime, Imelda Marcos talked frequently about smiles. She infamously referred to his years of military repression as "martial law with a smile"; compared herself to Robin Hood to "rob the rich" for funds to build clinics and roads, but "with a smile"; and said in 1982 that "the Philippines is where Asia wears a smile."
That smile-as-mask principle is the rudder for "Here Lies Love": show the audience a good time and then, as Byrne put it, "things go wrong and the rug gets pulled out from under them."
People in the Philippines, he said, "have told me that as generations go by, this history has been forgotten." The Marcos' "crimes and horrors are being washed away." But, he added, commemorating the history with music is a way to remind people what happens "in other large countries, that I won't mention, where people elect a 'strong man,' thinking that person will make their problems go away."
Imelda Marcos is a "strong man." (Her nickname is "the steel butterfly.") But the relationship between "strong man" and the people, Byrne said, can be destructive: "A lot of politicians have peculiar psychological issues. Gee, it seems obvious. I'm not a Freudian guy, but sometimes we become part of their therapy, their needs for acceptance and affection. You could say Donald Trump is the same way: He has a need for acceptance from people who shunned him."
As political philosophers — from Walter Benjamin to Susan Sontag — have noted, authoritarianism emerges when aesthetics (the glimmer of public presentation) replaces politics (finding actual solutions to actual human problems). "Walt Disney is frightening in that same regard," Byrne said. "Everything gets sentimentalized and cleaned up … I thought a lot about how we get seduced as a populace by charm and political narrative. People always find a simple narrative preferable to a complicated, nuanced one. It's a real challenge, in this case, to have the audience empathize with someone they despise when they come in the door."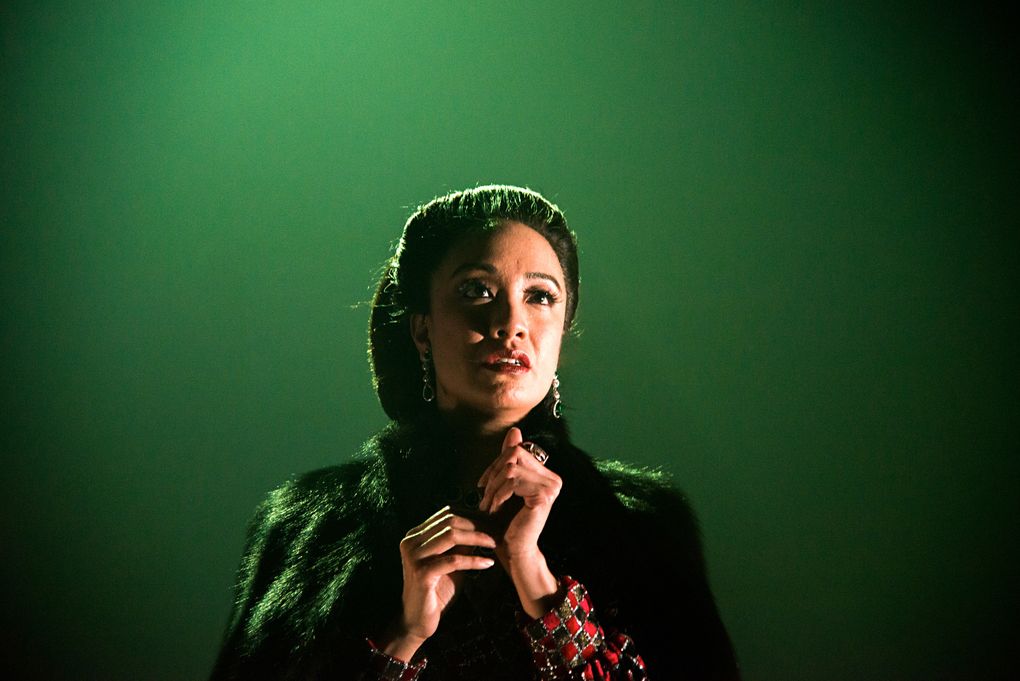 A life beyond the Rep?
Farwell-Moreland has run the technical side of many, many shows, including the touring version of "Phantom of the Opera." But on a stress scale of one to ten, she said, "Love" was "an eleven."
Which isn't a surprise since she's overseeing the construction of a dance club in a traditional theater, with a rotating set and minders in jumpsuits to help the audience figure out where to stand, 32 tiled TV screens against one wall, plus live-feed news conferences that are filmed on the disco floor and projected everywhere.
Regional theaters like the Rep — which have been struggling with financial challenges since the 2008 recession — aren't typically this ambitious. But Rep spokesperson Michelle Sanders Leyva said that, so far, early ticket sales for previews have "been tracking on point."
And the theater hopes it will have a life beyond the Rep, with co-productions across the country.
Partway through a recent rehearsal, a young man with bleached hair shimmied in the DJ booth while happy, Tropicália-sounding beats and backing tracks thrummed through the theater. A couple dozen people stood around, bopping their heads, while others rushed around, talking urgently into headsets about technical details: when the rotating stage should move, what the right lighting should be, whether there was any issue with the projections on the walls.
Throughout the chaos, director Alex Timbers, wearing a gray hoodie, would look up at the action, then type furiously on his phone (during one blackout, the phone reflecting off his face was the brightest light in the room) before stopping to ask questions and give the ensemble notes.
"So who's standing where at the end of this number?" Timbers asked the room. He seemed to be playing the role of air traffic controller.
"Love" is one bead in a string of productions Timbers has directed about iconic and complicated people: "Heddatron" (a re-imagining of Ibsen's "Hedda Gabler" using robots), "Bloody Bloody Andrew Jackson" (which cast the seventh president as a petulant emo-rock kid), "Peter and the Starcatcher" (about J.M. Barrie, who created Peter Pan), "Here Lies Love" and now, a new musical with Byrne about Joan of Arc at the Public Theater in New York.
Will the Rep's "Here Lies Love" gamble pay off? As Farwell-Moreland said, nobody knows.
But, as Byrne had pointed out earlier, members of the People Power Revolution that ousted the Marcos regime often invoked the old Catholic slogan "God writes straight with crooked lines."
"It's all real stuff, real history," Byrne said. "This is really what happened."