Region bursting with outdoor summer entertainment — and music everywhere.
MOVIES
'Rebels of the Neon God'
This restored version of Tsai Ming-liang's first feature about alienated youth, a cornerstone of the Taiwanese New Wave, finally gets its U.S. release. It seems so fresh and immediate you'd never know it's 23 years old. Now playing at SIFF Film Center. Read a four-star review by G. Allen Johnson of the San Francisco Chronicle.
TV
'Knock Knock Live'
Ryan Seacrest hosts what the network is calling a "next generation LIVE reality show" where "anything can and will happen." Series premiere, 9 p.m. Tuesday, July 21, on Fox.
'Last Comic Standing'
Roseanne Barr returns to the judges panel (along with Keenen Ivory Wayans and Norm Macdonald) to find the latest comic sensation. Season premiere, 9 p.m. Wednesday, July 22, on NBC.
FOOD
Rosé on the Roof
Party on the (hopefully) sunny rooftop of Purple Seattle, with the $30 price of admission including three hours' worth of Tempus Cellars wine plus curried chicken salad crostini, heirloom tomato salad and grilled baby back ribs with grenache barbecue sauce. The more you eat and drink, the better the value! 5:30-8:30 p.m., Wednesday, July 22, 1225 Fourth Ave., Seattle; $30 (reservations at 206-829-2280).
FE STIVALS, COMMUNITY
Seafair Torchlight Fanfest/ Parade
Saturday's a big Seafair day — it starts with Fanfest at Seattle Center, which includes performers who will be in the parade, food trucks, a beer garden and appearances by the Seafair clowns, pirates and princesses. Noon-6 p.m. Saturday, July 25, free. Then comes the Torchlight Parade, at 7:30 p.m., starting on Fourth Avenue from Seattle Center and presided over by grand marshals (and Seattle Mariners) Felix Hernandez and Robinson Cano (seafair.com).
Greenwood Seafair Parade
The Greenwood neighborhood joins the Seafair fun with bands, drill teams, floats and of course, pirates, on parade starting at 6 p.m. Wednesday, July 22. Grand marshal is M.J. McDermott, local broadcaster and meteorologist. The parade starts at Greenwood Avenue North, goes from North 95th Street to North 85th Street, then west to Sixth Avenue Northwest, Seattle (phinneycenter.org/parade).
Bellevue Arts Festival Weekend
Three arts and crafts fests take over downtown streets Friday through Sunday, July 24-26: Bellevue ArtsMuseum ArtsFair; Bellevue 6th Street Fair; and Bellevue Festival of the Arts. Visitors will find handmade works from hundreds of artists; public art installations; all kinds of food from trucks and booths; live music; kids activities and the famous chalk/pastel artists at BAM (bellevue.com/arts-week.php).
POP MUSIC
Capitol Hill Block Party
Headliners at high summer's hipster bash include hard-rocking electronic duo Ratatat, indie rockers TV on the Radio and The Kills, Seattle's own Father John Misty, Idaho melody-makers Built to Spill, Kathleen Hanna's The Julie Ruin, innovative naif duo Girlpool and many others. Friday, July 24 through Sunday, July 26, on Capitol Hill, between Broadway and 12th Ave. and E. Pine St. and E. Union St.; $50 per day, $90 two-day pass, $125-$250 three-day pass (strangertickets.com).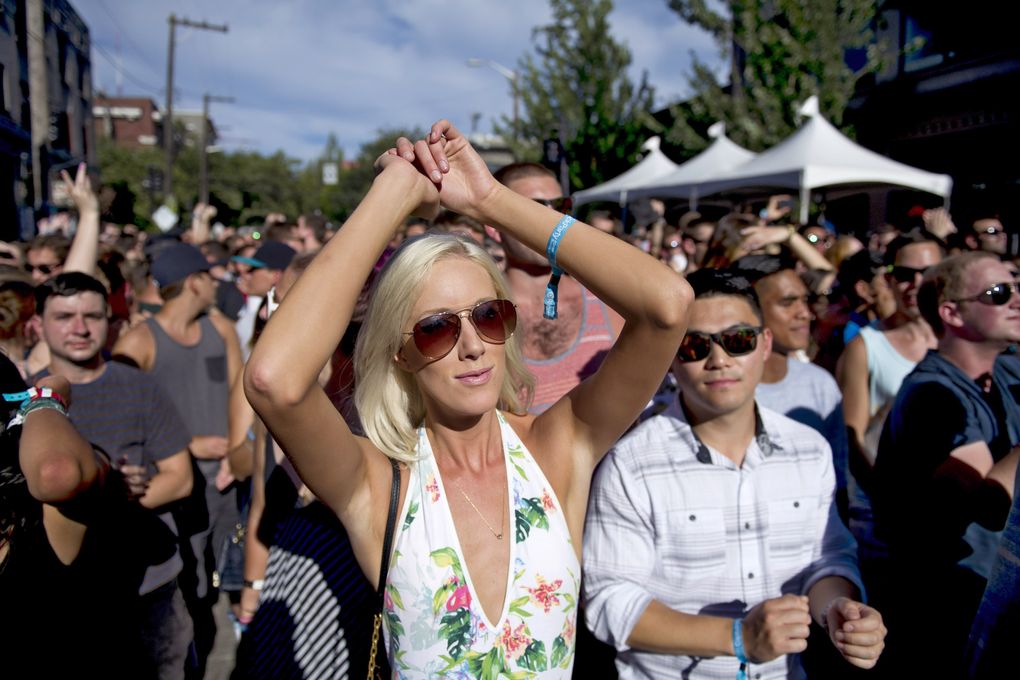 Charli XCX, Bleachers
You saw Charlotte Emma Aitchison — stage name Charl XCX — in the video of Iggy Azalea's "Fancy," but did you know Aitchison also wrote it? Either way, you're going to be seeing and hearing a lot more of this 24-year-old London pop-songwriting tyro, who started composing for raves when she was 14. Sharp, irreverent, in-your-face and funny, Aitchison released the punked-up album "Sucker" last year, which includes the hilarious bad-girl cheerleader chant, "Break the Rules." She is on tour with Jack Antonoff, of the band fun. 7:30 p.m. Saturday, July 25, at the Showbox SoDo, 1700 First Ave. S., Seattle; $31.50-$35 (206-628-3151 or axs.com).
CLASSICAL MUSIC
Olympic Music Festival
The Sunday (July 19) concert, "Breaking Barriers: Musicians from GardenMusic," features guest conductor Teddy Abrams (and musicians) of the GardenMusic Festival in Miami — an intimate chamber-music festival not unlike OMF. Coming Saturday-Sunday: piano duo Anderson & Roe (Greg Anderson and Elizabeth Joy Roe). All concerts are at 2 p.m., 7360 Center Road, Quilcene; $20-$32 (360-732-4800 or olympicmusicfestival.org).
Seattle Chamber Music Society Summer Festival
It's a little bigger than a chamber, but Benaroya Hall's Nordstrom Recital Hall is Ground Zero for chamber music in Seattle this summer. The society's annual summer fest continues with performances this week on Monday, Wednesday and Friday-Saturday (July 20, 22, 24-25). Each concert is preceded by a short, free recital at 7 p.m. Concerts are at 8 p.m., tickets are $48; $30 senior rush 90 minutes before each concert; $16 students (206-283-8710 or seattlechambermusic.org).
VISUAL ARTS
American Matsuri Festival
This free, all-day fest at Tacoma Art Museum celebrates links between Japanese and American culture and art. A highlight: a talk by artist Roger Shimomura, who will discuss his show at TAM, "An American Knockoff," and his experiences as a Japanese American citizen and artist. Also on tap: taiko drumming and flute performances, origami with artist Nori Kimura, tea tasting and a screening of the film "The Cats of Mirkitani." 10 a.m.-4 p.m. Sunday, July 19, TAM, 1701 Pacific Ave.; fest is free, standard admission prices in effect for museum exhibits (253-272-4258 or TacomaArtMuseum.org).
Patricia Rovzar Gallery
In the group show "Adaptations," artists, being better at this than the rest of us, have used materials that have been recycled or modified, or that have other purposes. Tracey Adams paints with pigmented beeswax; Susan Freda sculpts with wire, glass and resin; and Chris Maynard assembles work from cut feathers. (Also in the show: Morgan Brig, Rachel Brumer, Jan Hoy, Brenda Mallory and Rebecca Szeto.) 11 a.m.-5 p.m. daily through Aug. 3, 1225 Second Ave., Seattle (206-223-0273 or rovzargallery.com).