What will you do with your first official week of summer? Here are a dozen suggestions, including the Seafair Pirates, Kenny Chesney and the International Festival of Improv.
MOVIES
'Inside Out'
Pixar's latest, directed by Pete Docter ("Up," "Monsters, Inc."), is a moving, entertaining animated tour of an 11-year-old's mind, where five emotions — Joy (Amy Poehler), Sadness (Phyllis Smith), Fear (Bill Hader), Disgust (Mindy Kaling) and Anger (Lewis Black) — hilariously struggle for dominance. Now playing at several theaters. For Seattle Times movie critic Moira Macdonald's four-star movie review, go to seattletimes.com/movies.
TV
'Big Brother'
You know the drill. Fourteen strangers gather in a house full of video cameras for a summer of voyeurism and drama. Season premiere, 8 p.m. Wednesday, June 24, on CBS.
'In Performance at the White House'
This performance series offers a tribute to gospel music featuring performances by Aretha Franklin, Shirley Caesar and Emmylou Harris. 10 p.m. Friday, June 26, on KCTS.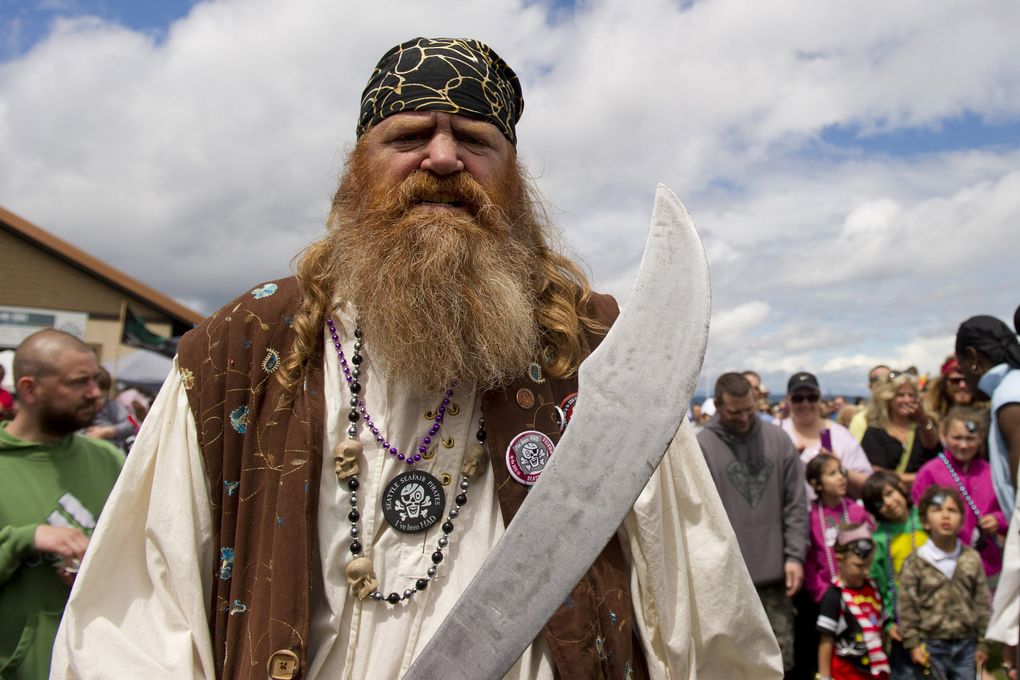 FESTIVALS, COMMUNITY
Bellevue Strawberry Festival
Yum, strawberries! Vendors will be selling the juicy fruit, of course, but there also will be carnival games, children's entertainment, an Eastside Heritage Center mini-museum, an auto show, and agricultural exhibit and demonstrations, 10 a.m.-8 p.m. Saturday, June 27, and 10 a.m.-6 p.m. Sunday, June 28, at Crossroads Park, 16000 N.E. 10th St., Bellevue (bellevuestrawberryfestival.org).
Seafair Pirates Landing
This annual event signals that the city's big summer bash is revving up. There will be food, entertainment, and inflatable rides, 10 a.m.-5 p.m., Saturday, June 27. The pirates land at about 2:15 p.m. Alki Beach Park, 1702 Alki Ave. S.W., Seattle (seafairpirates.org).
Taste of Tacoma
How about a festival just outside the metro-area? Head a little south to Tacoma for food, beer, entertainment, a carnival, arts, crafts and more, 11 a.m.-9 p.m. June 26-27, 11 a.m.-6 p.m. June 28, Point Defiance Park, Tacoma (425-295-3262 or tasteoftacoma.com).
POP MUSIC
Kenny Chesney, Jason Aldean
After a year off, country superstar Kenny Chesney is back on the road with his Big Revival Tour, which kicked off in March. The set list includes a mandatory pour of boozy numbers like "Drink It Up" and "Beer in Mexico," as well as hits such as "There Goes My Life." The tour is named for the diminutive country singer's 15th album, which has been on the country album charts 33 weeks. Like his previous stadium extraganzas, the tour, which has been getting strong reviews, is on track to sell one million tickets. For the Seattle date, Chesney will be joined by Jason Aldean, Brantley Gilbert, Cole Swindell and Old Dominion. 5 p.m. Saturday, June 27, at CenturyLink Field, 800 Occidental Ave. S., Seattle; $39.50-$250 (800-745-3000 or ticketmaster.com).
Willie Nelson
Willie Nelson, in a league with Johnny Cash as an original and an influence on American music of many genres, continues to be productive. The "outlaw" country singer released two albums last year, "December Day," inspired by the famous jam sessions he and his sidemen have on his tour bus, and the excellent "Band of Brothers,' which topped the country chart and rose to No. 5 on the album charts. The latter album features nine new originals, so expect to hear tunes such as "I Thought I Left You," as well as Nelson classics such as his famous collaboration with Waylon Jennings, "Mammas, Don't Let Your Babies Grow Up to Be Cowboys." 7 p.m. Saturday, June 27, at Marymoor Park, 6046 W. Lake Sammamish Parkway N.E., Redmond; $54.95-$129.95 (888-929-7849 or marymoorconcerts.com).
LITERARY EVENTS
Christopher Robinson and Gavin Kovite
Co-authors of a novel about Seattle Millennials, "War of the Encyclopaedists," read and tell how they co-wrote their story. 7 p.m. Monday June 22, Third Place Books, 17171 Bothell Way N.E., Lake Forest Park; free (206-366-3333 or thirdplacebooks.com).
THEATER
International Festival of Improv
The 19th year of this fest, founded by Randy Dixon of Unexpected Productions, has a theme of "Emergence" — which Dixon calls "the appearance of something from nothing, spontaneous order from chaos without agency or guidance." Participating artists will form an ensemble and present 10 evening shows over the course of the festival. Opening-night show is at 8:30 p.m. Sunday, June 21; remaining shows are June 24-28. Unexpected Productions' Market Theater, 1428 Post Alley, Seattle; festival pass, $30 (206 587-2414 or unexpectedproductions.org).
CLASSICAL MUSIC
Seattle Symphony
The orchestra salutes the music of movie soundtrack master John Williams ("Jaws," "Superman," "Star Wars," "Jurassic Park") in a summery setting: Marymoor Park. Stuart Chafetz will be the guest conductor. 7:30 p.m. Wednesday, June 24, Marymoor Park, Redmond; $39.50-$69.50 (888-929-7849 or marymoorconcerts.com).
VISUAL ARTS
ArtXchange Gallery's 20th anniversary
Cora Edmonds founded ArtXchange as a website in 1995 with the aim of providing an outlet for art made by non-Western artists. The gallery now calls a Pioneer Square gallery its home and has shown more than 200 artists from 40 countries. Edmonds is celebrating the 20-year mark with a show of midcareer gallery artists from Vietnam: Bao Ly III, Tu Duy and Bui Cong Khanh. 11 a.m.-5:30 p.m. Tuesdays-Saturdays, 512 First Ave. S., Seattle (206-839-0377 or artxchange.org).