The Seafair Weekend Air Show and Seafair Cup is July 31-Aug. 2. And don't forget Fleet Week.
It's Seafair Weekend on the water, land and in the air at the Hydroplane Races and Air Show Friday, Saturday and Sunday, July 31-Aug. 2. Colorful hydroplanes racing on Lake Washington, a local tradition since 1951, draw thousands of spectators in boats and onshore for qualifying races leading up to Sunday's Seafair Cup championship race.
Genesee Park and the surrounding area will be full of activities, including Kids Zone, hydroplane display and drivers autograph booth, military village, a cooking stage, food court and three beer, wine and spirits gardens. Mainstage entertainment will feature Navy Band Northwest daily, UW and WSU marching bands Saturday and Seattle Sounders Sound Wave Sunday. Weekend themes are Family Day Activities Friday; College Zone Spirit Day Saturday; and Seattle Sports Day Sunday, celebrating the Mariners, Sounders, Reign and Seahawks and featuring a 12th Man Hydroplane.
Related story: Schedule of I-90 closures for Blue Angel shows
Seafair Weekend
Time: 8:30 a.m.-6 p.m. Friday-Saturday, 7:30 a.m.-6 p.m. Sunday, July 31-Aug. 2
Cost: free admission Friday; Saturday/Sunday: adults $30/advance, $35/at the gate, seniors and ages 6-12 $10/advance, $15/at the gate, ages 5 and younger free; $45/reserved grandstand Friday, Saturday, Sunday; $10/day Pit Pass and tour
Location: Genesee Park, 4316 S. Genesee St., Seattle
More info: 206-728-0123 or seafair.com.
Jet Blast Bash
Time: 9 a.m.-5 p.m. Saturday-Sunday, Aug. 1-2.
Cost: $12-$20, ages 4 and younger free.
Location: Museum of Flight, 9404 E. Marginal Way S., Seattle
More info: 206-764-5700 or museumofflight.org.
Blankets or folding chairs for seating come in handy, though many spectators simply sit on the grass or stand near the lake. Grandstand seating is available at an extra charge. Fans are welcome to bring outside food and beverages but no alcohol. Pets and firearms are also prohibited. Tours of Stan Sayres Pits, with up-close views of the hydros, are available daily with purchase of a Pit Pass; closed-toed shoes are required in the Pits.
Let's get to what everyone wants to know — when do the U.S. Navy Blue Angels perform and when will I-90 be closed for their shows? The Blues take their spectacular precision show to the air above Lake Washington at 1:40 p.m. Friday, Saturday and Sunday, starring in the daily Air Show that also features aircraft from the Flying Heritage Collection, the Air National Guard, U.S. Marines and Breitling Jet Team. The I-90 bridge is scheduled to be closed to traffic and pedestrians from 11:50 a.m. to 2:40 p.m. all three days, though times may vary somewhat.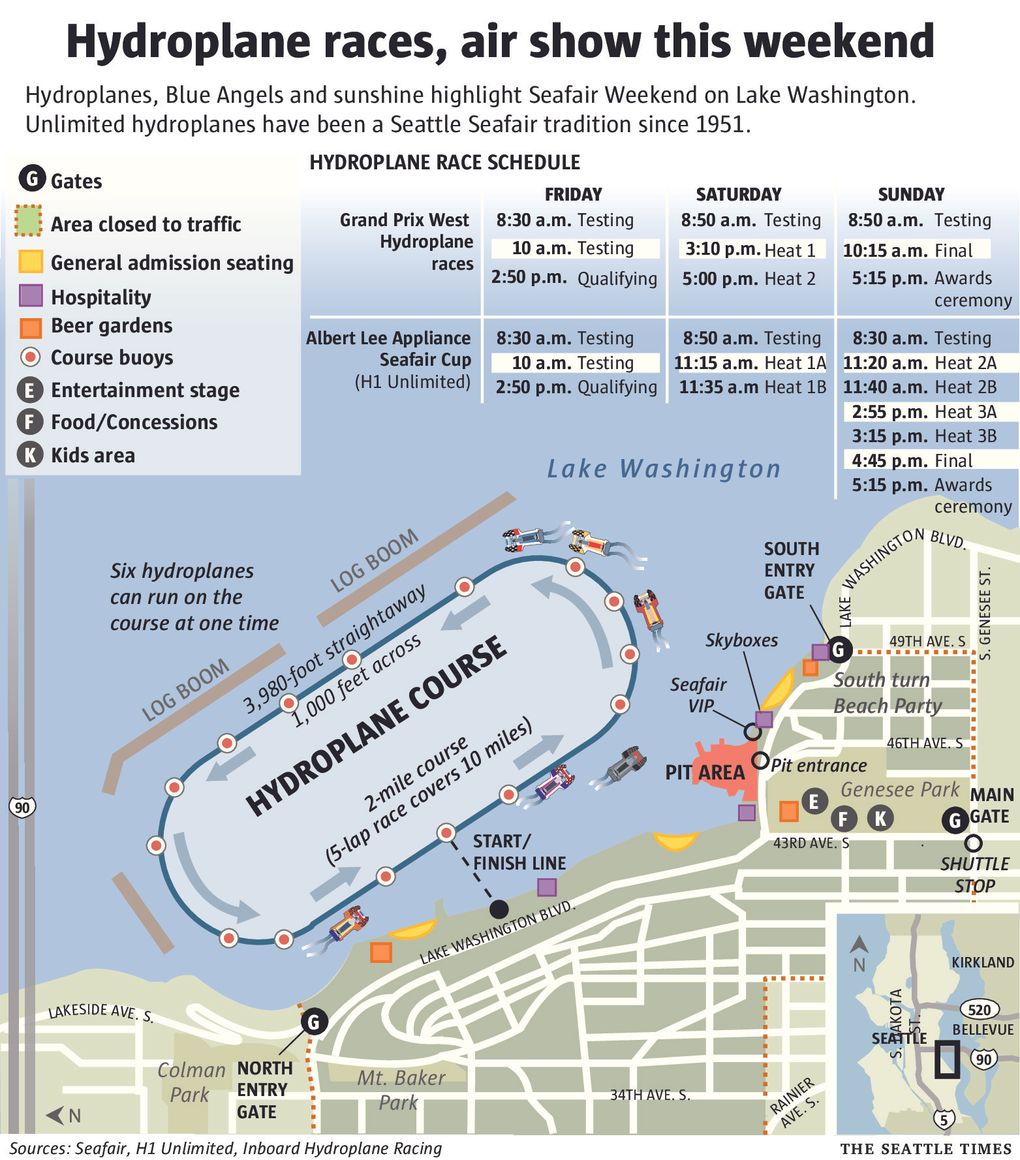 Spectators can watch the Blue Angels take off and land near the Museum of Flight where they're based while they're in town, with Jet Blast Bash Blue Angel-themed activities inside and outside the museum Saturday and Sunday.
If you're a casual fan and/or on a tight budget, Seafair Weekend admission is free Friday. Discounted advance tickets for Saturday and Sunday are available online through Friday, July 31. Military members with ID are admitted free daily, with a special $10 rate for their family members.
Parking is extremely limited in the area; on-site parking is $35 in advance or $40 cash at the gate if it's not sold out. A free shuttle bus from the Columbia City Link Light Rail station offers rides to the Seafair main gate 7 a.m. to 6 p.m. Friday, Saturday and Sunday. Seafair's website has a $10 coupon for all-day parking at SeaTac Airport Garage and information about parking near other Light Rail stations. There's a bike corral near the Main Gate; bicycles aren't allowed in the park.
Also going on: Fleet Week, Thursday-Saturday, when U.S. Navy and Royal Canadian Navy ships come to town and the public is invited to tour some of them. Ships open to visitors are at  Piers 66, 69 and 90 all four days. The free tours are first-come, first-served.
For more information, visit www.seafair.com.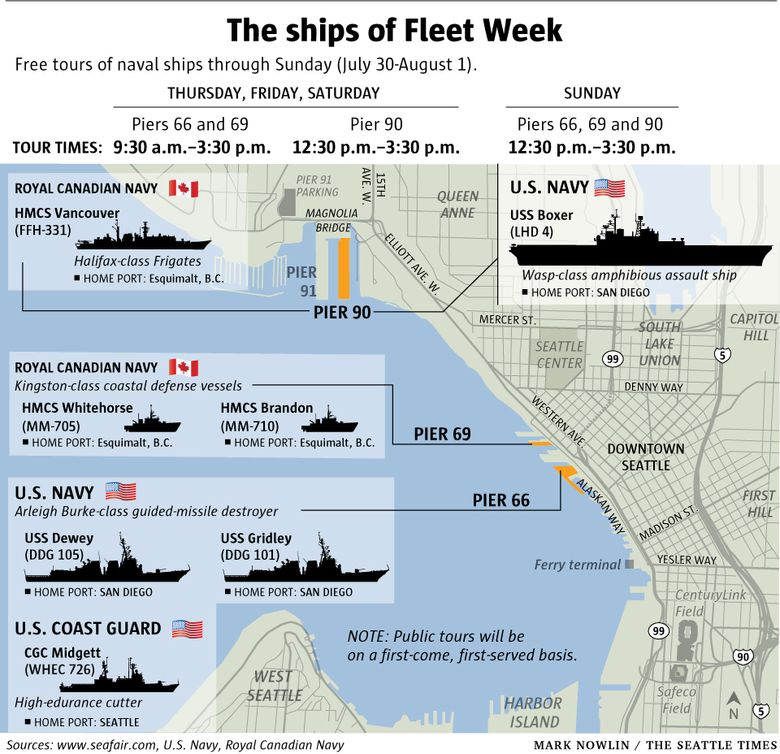 Related story: Art Oberto, 88, enjoys his moment in the sun at Seafair hydros
Related story: Steve David trying to make an impact as chairman of H1 Unlimited
Related story: 'It was insane': Teen flies with one of the world's greatest stunt pilots