This is not just a "Star Wars" story.
OK, maybe it is, at its heart. But it's also a story of love and creativity and connection; of the joy of making something with your hands, working side by side with your children or your friends. It's about how a beeping robot with a swivel-dome head can make kids laugh and grown-ups feel better, and about how movie love can take us to unexpectedly wonderful places.
Had Emerald City Comic Con not been postponed due to coronavirus concerns, you might've found there a group of friendly remote-controlled robots, scooting around somewhere near waist height, beeping agreeably. They are droids created by members of R2Northwest, the Pacific Northwest chapter of the R2 Builders Club, and they look just like the ones you see on-screen in the "Star Wars" movies — intricately detailed, lovingly crafted and full of personality. If one rolls up to you, you can't help but engage with it. 
"They just kind of speak to you as a character," said Todd Maxfield-Matsumoto, a club member who lives in Tukwila and builds droids alongside his three sons. "When we do events with robotics clubs, kids on the robotics teams don't really care about these, because they don't do much. They don't accomplish a task. That's the way robotic builders think: 'What task do they do?' But we're more like puppeteers — we're bringing them to life. And that's how people connect to it."
The R2 Builders Club, founded in 1999, is a worldwide club of people, connected by the internet, who build R-series droids. There are approximately 7,000 members total; the Pacific Northwest branch of the club has about 40. For those who (like me, when I began this story) don't necessarily speak fluent "Star Wars," robots in the "Star Wars" universe are referred to as droids; the R-series, part of a category called astromech droids, are short and cylindrical, with three legs. R2-D2, a beloved droid who's appeared in 10 of the 11 live-action "Star Wars" movies, is the most famous of them, but other R-series droids appear throughout the series — endearing variants on a theme.
While "Star Wars" is beloved by millions of fans, most of them don't go to the trouble of building their own droids, a laborious process that can take years and require significant investments of equipment, money and knowledge. But the R2 builders, it seems, dream a little bigger than you and me. (One of them, Ian Martin, casually mentioned during an interview that he'd recently finished building an Irish pub in his Yelm backyard, just because he and his wife love Irish pubs. He sends me photographs; it looks cozy, detailed and perfect.)
Club members who wish to build a droid aren't working entirely from scratch. For the R2, official blueprints do exist ("Star Wars" producers Lucasfilm made them available some time ago, on the stipulation that nobody could make money from them) and are maintained by the club. In recent years, the availability of 3D printing has made it easier to craft parts, and most of the builders I spoke to use such printers for least some of their projects.
But many homemade droids are a mix of materials — wood, aluminum, plastic, fiberglass, resin — and for lesser-known R-series robots (not R2-D2, but maybe his cousins or friends), builders need to adapt parts to fit, often looking to other builders for help. Maxfield-Matsumoto's 15-year-old son, Taka, spent much of a summer vacation building Chopper, a character from the "Star Wars Rebels" cartoon for whom parts didn't exist. His proud father described how Taka had to draft his own parts, learn to use power tools and call or text builders all over the country for advice.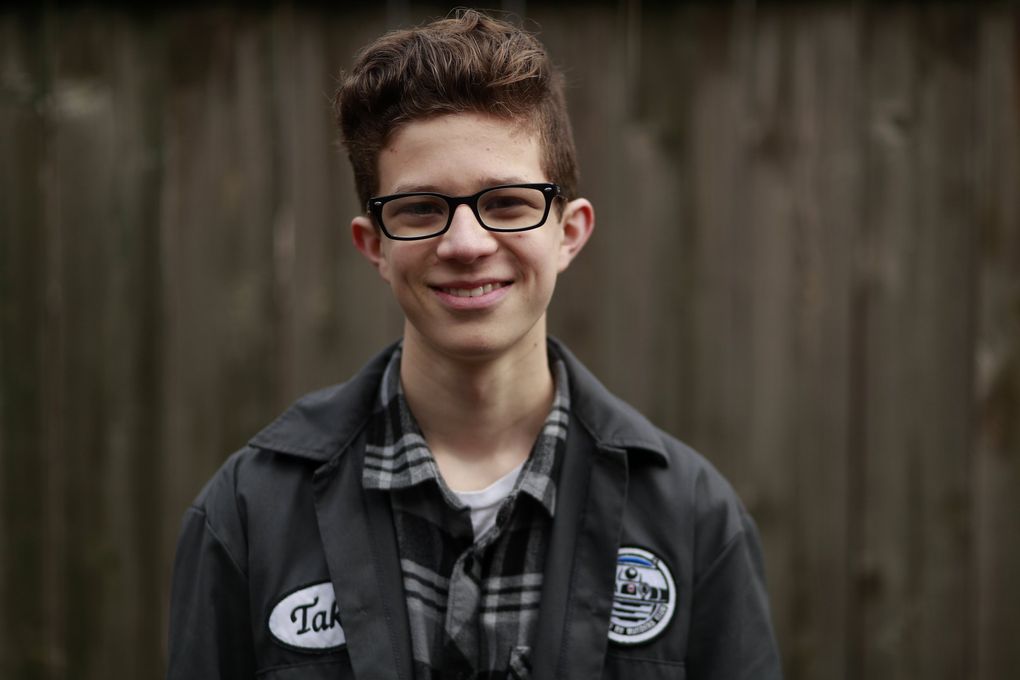 "I think this one's my favorite, because I did most of it by myself," said Taka, displaying Chopper in the family's driveway on a recent Sunday morning. It took him, he said, a month just to draw the blueprints. His younger brothers, 11-year-old Kenji and 9-year-old Strummer, have also made their own droids; it's a family activity. "That's my favorite part of it," said Maxfield-Matsumoto — "doing it with my boys."
"People build these?"
Many builders come to droid construction first as "Star Wars" fans, then through making costumes or props — often through clubs like the 501st Legion, whose members re-create iconic "Star Wars" costumes. Dino Ignacio, who lives in West Seattle and works as a product designer for a tech company, began that way. As a reaction to his professional work, in which he spent time looking at what was real and making it digital, he began to discover that in his off time, he found more joy in the opposite — in taking something from a screen and making it real.
With help from fellow builders and his 9-year-old daughter, Harley, Ignacio created an R2-D2 who's now known as the West Seattle Droid. The droid makes regular appearances at the West Seattle Farmers Market and community events such as the Puget Sound Buddy Walk supporting people with Down syndrome.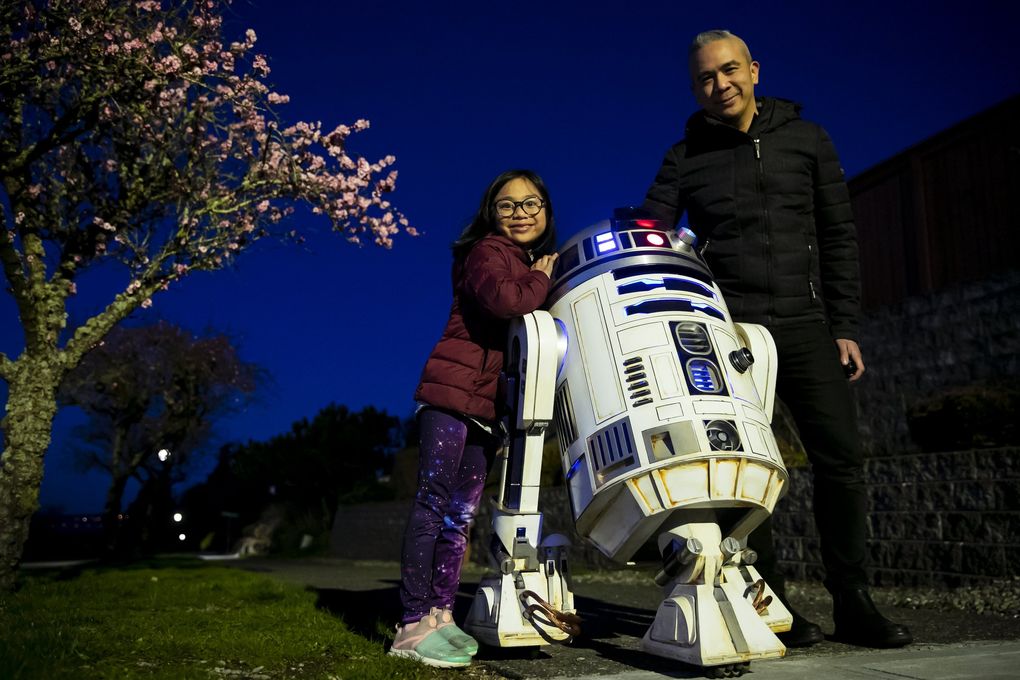 When out in public with their R2, Ignacio and Harley use two separate remote controls; he controls the movement and Harley handles the beeps and head spins. "There's a lot of looking around and seeing who's controlling this, because we're pretty stealth," Ignacio said, noting that kids sometimes come up to R2 and hug him. "It's a joy to see this thing bring so much happiness."
Carol Semenchuk, a business systems analyst who lives in Renton, never thought of building a droid until she attended a "Star Wars" convention in 2007 with her husband (they're both fans) and noticed a panel called Droid Building 101, put on by R2Northwest. "I thought, 'Wait a minute, people build these?'" she remembered. She spent eight years building her classic R2-D2 — it took so long partly because she'd often get frustrated and put the project away for a while, partly because the then-lack of 3D printers made it more arduous to create parts. 
Finally finished in 2015, her R2 made his debut at the "The Force Awakens" premiere at Cinerama that December. He now makes regular appearances at conventions and charity events, often wearing a trademark bow tie and top hat. "He was my favorite character in the movies, so as soon as I learned that this was possible and there's a club out there that will support me in learning all this stuff, that made me jump to it," Semenchuk said of the journey.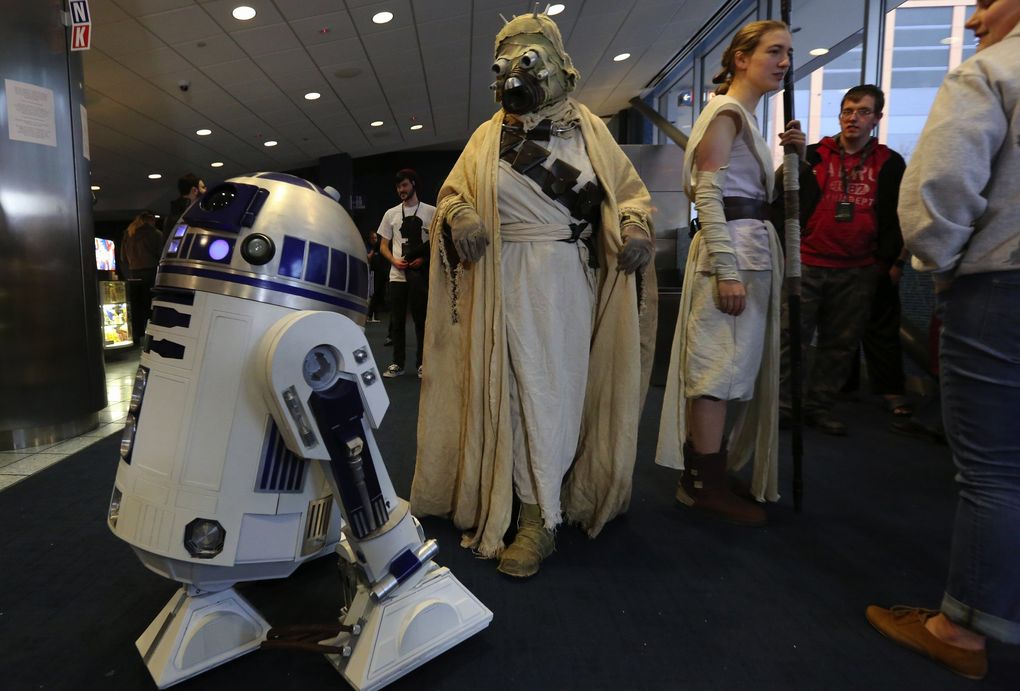 Some builders make basic droids with limited functionality; some go all out with the details. Ignacio figured out how to make his R2 project a hologram of Princess Leia ("I got so sick of people asking that I found a projector small enough to put inside of him") and programmed the droid to play a few songs. Semenchuk is working on building a drink tray for her R2, like the one he uses in "Return of the Jedi."
Craig Lindsay of Vashon Island was asked if his R2 could be the ring bearer at a wedding (as a special surprise for a "Star Wars"-obsessed groom), so he added a special drawer that opened up for the rings. Lindsay's R2 and BB-8, which he built with the help of his daughter Luna, now 8, ran for unofficial mayor of Vashon in 2018; they lost to a dog. (This story is full of sidebars that are worthy of their own stories, or perhaps a movie.)
And Martin's R5-D4 — in "A New Hope," the first "Star Wars" film, "he's the droid that Luke is about to purchase, and then he blows up" — has numerous customizations: he's got a buzz saw, a trading-card dispenser (to hand out to kids), a satellite dish that comes out of his head, an extendable arm and the list goes on. And he lays eggs, just for fun.
"The great thing about a droid that's not really on-screen much, you have more creative license as to what he might do," Martin said.
Oh, and his R5 also blows up (not entirely, but smoke does come out). 
Droids make everyone happy
While many R2 builders work in tech industries, not all of them do: Maxfield-Matsumoto, for example, is a former Barnes & Noble store manager now studying for his funeral director's license. "It's not actually technical — anyone can build an R2," said Semenchuk; all you need is time, a few tools and a willingness to learn.
And you never know where your build might end up. Years ago, an R2 Builders Club chapter made a pink R2 as a special gift for a little girl in South Carolina named Katie Johnson (daughter of Albin Johnson, founder of the 501st Legion), who had terminal brain cancer. Named R2-KT, it was a comfort to Katie and her family. After her death, R2-KT became a regular presence at children's charities, known as "the Pink Droid with a Heart of Gold." Word eventually reached Lucasfilm — and ultimately R2-KT, a fan creation, made an appearance in "The Force Awakens." (That film, by the way, employed two British R2 Builders Club members to oversee its astromech droids.) 
But most builders don't do this hoping for glory; they just want to capture a little bit of the joy that "Star Wars" gave them, turning it into something tangible to share with their kids and their communities. As one, the builders speak of how much fun it is to watch people interacting with their creations, of how their droids make everyone happy. "There's no bad day when you have a droid in the house," said Ignacio. "Any time somebody sees him," said Semenchuk, "all they can do is smile."
And I was struck, too, by how R2 has a way of making all of us believe that a beeping little robot sees us and speaks to us. I found myself, at the end of one interview, saying goodbye to R2 as I left; it seemed only polite.
While visiting Ignacio in West Seattle, on a beautiful twilight evening, the Times photographer suggested shooting outside. In a velvety light that matched R2's blue trim, I watched the matter-of-fact procession down the sidewalk: a man, a little girl, a droid with its lights cheerily flashing. A passing driver stopped, asking if he could take a picture. Ignacio or Harley pressed a button — or maybe it was magic, I don't know — and R2 started playing "Uptown Funk" and dancing, on that sidewalk in the soft half-light. It was, perhaps, the happiest thing I've ever seen.
And maybe that joy and thrill and childlike wonder, at their essence, are what make this a "Star Wars" story.
_____
Droids and builders will gather at the Museum of Flight on Sunday, May 31; watch museumofflight.org for details.
If you want to learn more about making your own droid, see astromech.net or fb.com/R2Northwest.