Justin Bieber has clearly never waited tables, or delivered pizza. Or learned from his mistakes.
According to the Instagram account of Seattle pizzeria Big Mario's, the "Love Yourself" singer bought 21 pizzas after his KeyArena show the other night – and didn't leave a tip.
It was the second time in days that Bieber — reportedly worth $221 million — was accused of stiffing the Seattle folks serving his crew. On Monday, March 7, he walked out on a $130 tab at The Whisky Bar.
After that showed up on TMZ and The Seattle Times, a Bieber rep returned to the bar and settled up Wednesday.
It's not too late to say sorry to Big Mario, Justin.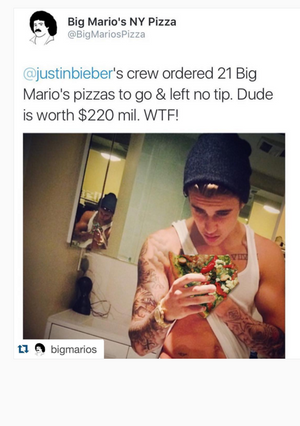 Clearly, Big Mario's has posted an image from someone having a little fun with photo illustrating. In the original Bieber selfie, he's holding a phone, not a slice.