Editor's note: Event details are subject to change. Please check your event's website for the latest information, including on COVID requirements, and please heed local health authorities' safety recommendations.
What's Happening Oct. 29-Nov. 4
As the end of October rolls in, Halloween is on the minds of many — but another holiday is right around the corner. Día de los Muertos, also called Day of the Dead, is a Mexican holiday celebrated Nov. 1 and 2. With roots in ancient Mesoamerica, Día de los Muertos has provided an opportunity to honor, celebrate and reconnect with deceased loved ones through celebration for thousands of years.
Amaranta Sandys has created Día de los Muertos art for most of her life. Born in Mexico City, Sandys began her career as an artist by training in ceramics, practicing the art form for 10 years. Sandys now lives in Seattle, and she works as a practicing and teaching artist.
"I was very faithful to ceramics until I started teaching," she said, adding that she now teaches art with mixed media, using everything from leftover materials to metal to even clay, although she primarily sticks to acrylic when creating her personal work.
Her work often pulls from her Mexican heritage, and one of her most popular public programs is the Seattle Public Library's Día de los Muertos program, where she has been teaching participants how to create sugar skulls, prints and more for over 15 years.
Through her more recent collection of Día de los Muertos art, Sandys wanted to portray the jobs and vibrant lives of those in the creative industry. Many of the pieces in her Día de los Muertos collection depict DJs, dancers and even mariachis.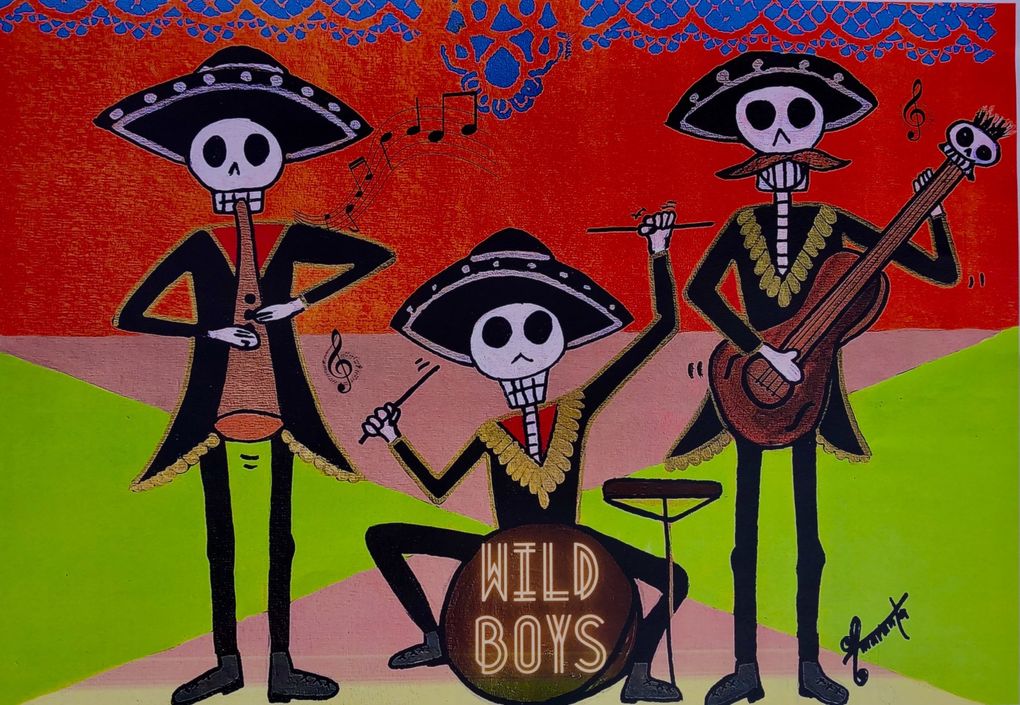 This year, Sandys will have her work featured in multiple Seattle-area Día de los Muertos celebrations. At ShoreLake Arts' Día de Muertos celebration, Sandys will have prints of her original Día de Muertos collection on display. This collection of work represents "a journey of many, many years. It takes practice to do this, it takes consistency to come up with a line of artwork," Sandys said.
ShoreLake Arts' virtual and in-person celebration invites participants to visit and add to the community altar noon-5 p.m. Nov. 2. There will also be virtual art projects (including a sugar-skull demonstration), free stickers and more.
Sandys' exhibition on display at ShoreLake Arts "pays tribute to some of the musicians and people that I admire," she said, citing her "Forever Bowie" piece.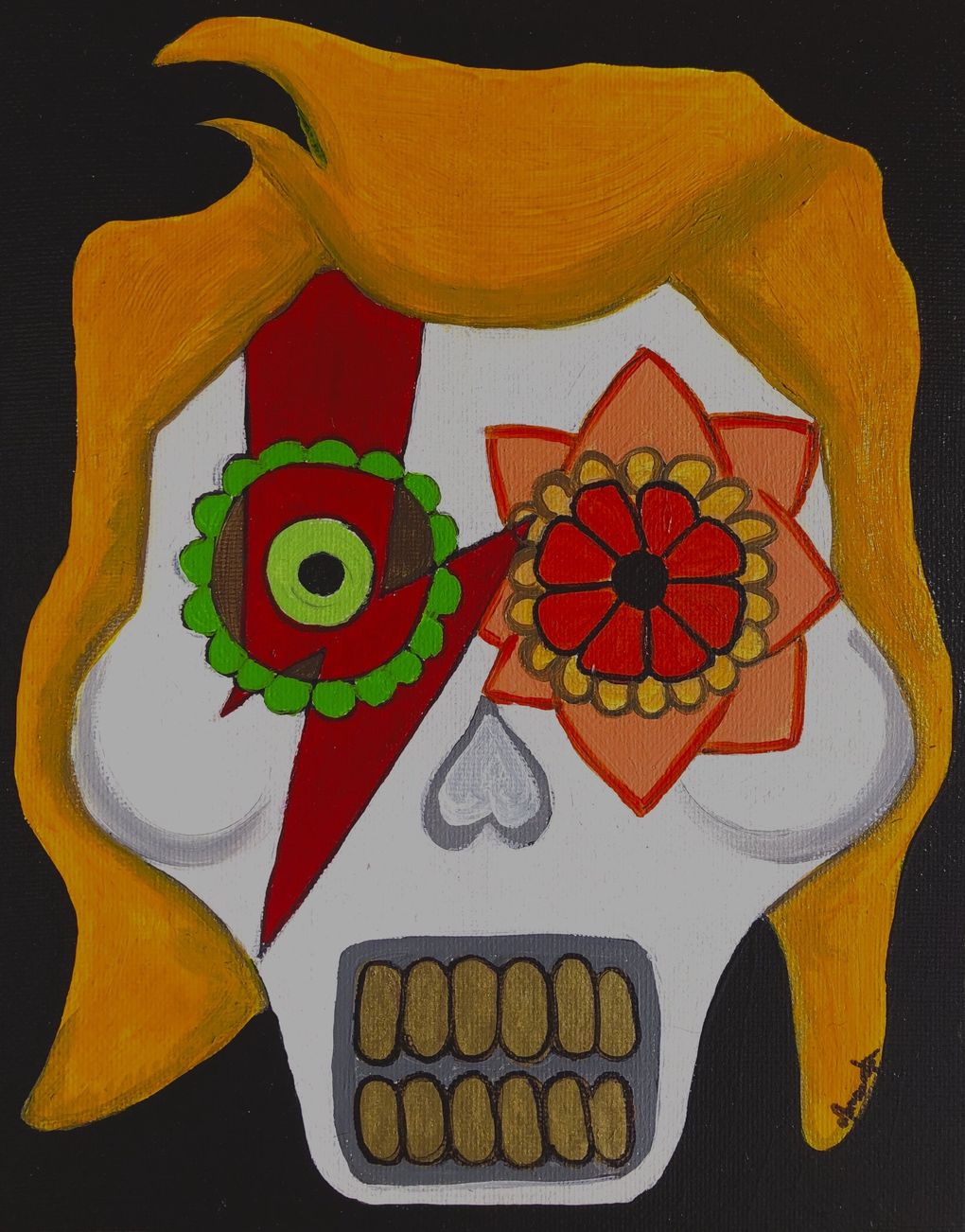 Burien's Día de los Muertos 2021 includes a virtual weeklong celebration Nov. 1-5. Sandys will provide craft kits for families and participants to take home. Participants are also invited to view art and altars dedicated to Día de los Muertos in locations around downtown Burien, including the Burien Community Center and Para los Niños.
In addition to those two events, Phinney Neighborhood Association and Seattle Center are also showcasing the holiday through online and in-person events.
The Phinney Neighborhood Association's Día de los Muertos celebration offers food, drinks and festivities 11 a.m.-3 p.m. Nov. 6. Participants are invited to bring personal offerings like pictures or small items to the Phinney Center (6532 Phinney Ave. N., Seattle) to be included on the community altar. There will also be arts and crafts for all ages, Mexican hot chocolate, pan de muerto, live music and dancing.
Seattle Center Festál presents Día de Muertos Festival Seattle in partnership with the Día de Muertos Festival Committee Oct. 31 (including an in-person altar at Fisher Pavilion 11 a.m.-9 p.m. Oct. 30-Nov. 7). The virtual presentation on Oct. 31 features traditional dances, pre-Columbian music and a lecture by archaeologist Lorena Medina, who will offer reflection on the 500th anniversary of the fall of Tenochtitlan (known today as Mexico City). There will also be a demonstration of champurrado (a traditional hot chocolate), Oaxaca face painting, sugar-skull workshops, art and more. At the in-person community altar, visitors will find traditional sand painting and displays created by members of the presenting community, including an altar in Michoacan style.
When celebrating Día de los Muertos this year, Sandys said it is important for participants to be mindful of ways they can both support local artists and respect the culture of the holiday.
"When we go into stores, we see things that may look — especially for Día de los Muertos — very appealing, but unfortunately, they're made in China. That is something that I want people to be aware of. What we offer as artists is not sitting in cargoes, it's made locally, so support your local artists as much as you can," she said.
All of Sandys' Día de los Muertos art is currently on display at The Station (1600 S. Roberto Maestas Festival St., Seattle). Find some of Sandys' classes and work at: artmaranth.com.
Find more information about Día de los Muertos events at:
What else is happening
Here are some other events happening Oct. 29-Nov. 4 in the Puget Sound area. If you would like to submit an event for consideration, please fill out the form at the bottom of the post.
Larry Carlton Steely Dan '78 Album and The Crusaders Remembered — Oct. 28-31
Dimitriou's Jazz Alley hosts four-time Grammy-winning guitarist Larry Carlton at 7:30 p.m. Oct. 28-31 and 9:30 p.m. Oct. 29-30. Band members include Larry Carlton (guitar), Travis Carlton (bass), Mark Stephens (keys), Gary Novak (drums), Mark Douthit (saxophone) and Barry Green (trombone). Purchase tickets online; $50.50. 2033 Sixth Ave., Seattle; 206-441-9729; jazzalley.com
Seattle Weavers' Guild Annual Show and Sale — Oct. 29-30
The Seattle Weavers' Guild presents its annual sale 10 a.m.-8 p.m. Oct. 29 and 10 a.m.-4 p.m. Oct. 30. In addition to finding handcrafted items, visitors can see the process of weaving fabric and baskets, spinning yarn and doing other fiber arts from the artists themselves. Free. 1245 10th Ave. E., Seattle; seattleweaversguild.com
"My Three Closets (Or Surviving the Avalanche)" — Oct. 29
Macha Theatre Works presents the next virtual show in the 17 Minute Stories series featuring strong female characters at 8 p.m. Audiences are invited to watch "My Three Closets (Or Surviving the Avalanche)," a queer/Christian journey toward authenticity written and performed by Valerie Curtis-Newton. Purchase tickets online; $7-$37. machatheatreworks.com
Sámi Film Festival — Oct. 30
The National Nordic Museum partners with Scandinavia House in New York and Seattle's Pacific Sámi Searvi for a hybrid fourth annual Sámi Film Festival 12:30-3:30 p.m. The festival features contemporary documentaries and short films and a virtual panel discussion with directors. All entries can also be viewed Oct. 29-Nov. 1 online. Purchase tickets online; $20/general, $15/members. 2655 N.W. Market St., Seattle; 206-789-5707; nordicmuseum.org
Killer Whale Tales at the Northwest Stream Center — Oct. 30
Join The Northwest Stream Center to see Killer Whale Tales' Jeff Hogan and his presentation online or at the Adopt a Stream Foundation at 1 p.m. During the presentation, learn about the southern pod, which resides in waters around the San Juan Islands and makes occasional trips south into Puget Sound. Visitors are also invited to take a stroll on the Elevated Forest and Wetland Walk before or after the show. Purchase tickets online; $7/nonmember, $5/member. 600 128th St. S.E., Everett; streamkeeper.org
Meet the Author: Daniel James Brown — Nov. 2
King County Library System hosts a virtual event with author Daniel James Brown and his book "Facing the Mountain, A True Story of Japanese American Heroes in World War II" 7-8 p.m. The event will feature a conversation between Brown and Densho executive director Tom Ikeda. Register online; free. kcls.org
"Banana [ ] / we pilot the blood"

Virtual Book Launch — Nov. 2

Elliott Bay Book Company hosts Seattle-based poets Quenton Baker and Paul Hlava Ceballos for a virtual book launch of "Banana [ ] / we pilot the blood" 6-7 p.m. This volume of poetry includes essays by Christina Sharpe and visual art by Torkwase Dyson. Natalie A. Martinez will join in conversation around readings from the work. Register online; free (signed copy of the book available for purchase). elliottbaybook.com
The Naturalist's Notebook — The Knowledge of Corvids — Nov. 4
Seward Park Audubon hosts a virtual class to explore the family of birds that are among the smartest birds on Earth, including crows, ravens and jays 6-7:30 p.m. Lead naturalist Ed Dominguez will teach participants how to differentiate a crow from a raven, why jays are so raucous and why magpies seem to change color. Register online; free. sewardpark.audubon.org