Microsoft's renovation and expansion of its Redmond campus will eliminate some of the company's original buildings. So what's the fate of the X buildings and what about Lake Bill?
Microsoft is preparing to embark on a massive redevelopment of the east side of its Redmond complex, and though the multibillion-dollar project will inject a sense of modernity on the campus of the 42-year-old company, some of its more nostalgic gathering points will be torn down.
Here's a look at what's staying and what's on its way out.
Leaving
X buildings: Microsoft's buildings in the shape of an X date to the 1980s, and now all of them are being torn down and replaced. The X configuration was used to maximize the number of offices with windows, but it left the buildings with low ceilings. Taller buildings, most of them four stories, will replace the Xs, which are two or three stories tall.The transition won't come without angst, said Wes Miller, a research analyst with Directions on Microsoft and a former employee of the company. "As homely and confusing as they are, they have a very unique presence and I think I don't see that with the new buildings," he said.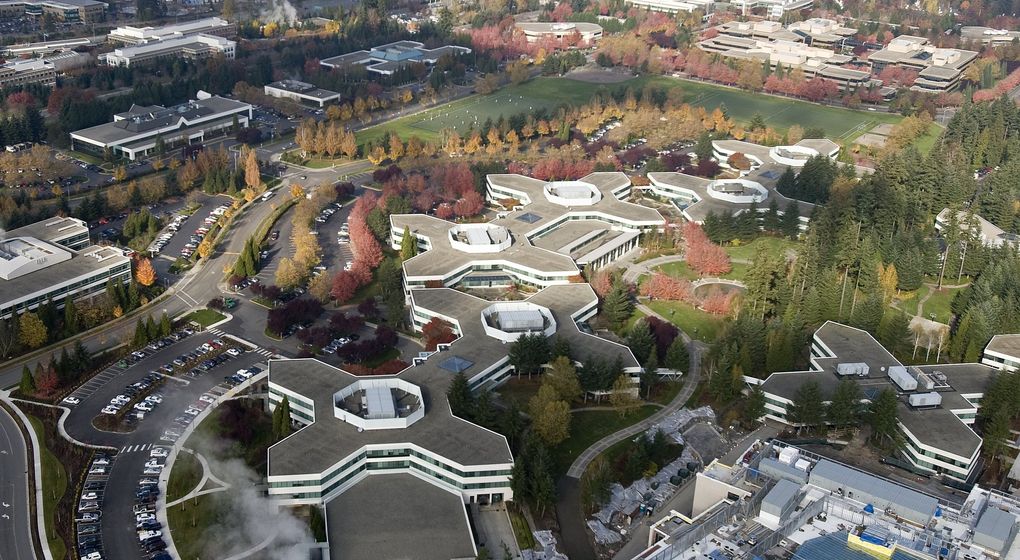 A lot of personal offices: The company is moving away from a layout that once helped it attract tech workers — one office per person. It's now designing more open workspaces and gathering places, as is fitting with current office-space trends. But not everyone is happy to see the private workspaces go, as tweets from some employees signaled.
Semblance of a chicken farm: Microsoft President Brad Smith pointed out Wednesday that the land where Microsoft's headquarters sits once housed hens. Although traces of the 1920s-era ranch have been gone for decades, the sleek renderings of the soon-to-be-Microsoft home may wipe out any last memory of the old-time farm. "Clearly, this is no longer a chicken farm," Smith said.
Staying
Lake Bill: The affectionately named Lake Bill, which is really a pond in the courtyard area between some of the original buildings, will stay put. The pond was named for co-founder Bill Gates and used to be a popular place for teams to visit when they finished a long product-development cycle. At the annual Microsoft shareholders meeting Wednesday morning, Smith recounted how managers used to be tossed in the pond by their employees to celebrate finishing a project.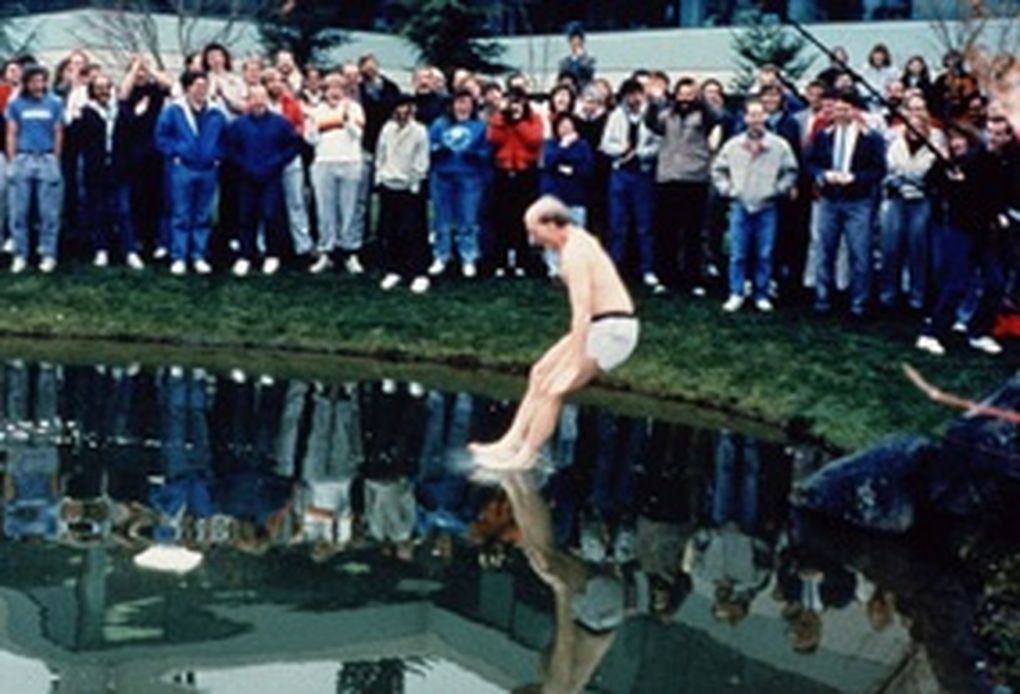 Traffic: Ah yes, the infamous commute on 520/405/however you want to get to Redmond will remain. Microsoft is adding an underground parking garage for the new buildings, which will make room for 8,000 more employees. And Microsoft is promoting the Sound Transit light-rail station, adjacent to its campus, which is scheduled to be completed in 2023. There's no doubt the train expansion will help. Sound Transit estimated in 2011 that 4,500 riders will take the Link to or from the Redmond Technology Center Station each day by 2030, and that was before voters approved two more stations at Marymoor Park and downtown Redmond, which would together attract more than 7,000 daily riders. Microsoft's private Connector buses will still shuttle employees living around the region to and from campus. But 114,220 single-driver cars travel each day on Highway 520 to or from Northeast 36th Street near Microsoft's campus. That traffic won't totally abate.
Building 7: OK, this is only sort of staying, because it doesn't technically exist. When the original Microsoft buildings were constructed in Redmond, they were identified by sequential numbers. Building 7 was skipped, however, apparently for permitting reasons. Building 7 never got built, and became a running joke among employees and new hires, à la "I'll meet you in Building 7." During the last major renovation in 2007, the company developed plans for an actual Building 7. Longtime employees pushed back, not wanting to lose the nostalgic joke. That new building was instead named Building 37, and it will remain through the redevelopment.